Can Counselling Help With Depression Among Students?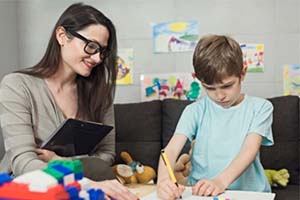 Depression is not a new concept, this has been prevailing among young people across the world for a very long time. However, depression is not necessarily seen among the students or young learners, this can be observed in anyone and everyone. Depression is a serious mood disorder; skilled counsellors are now trying to manage this with the help of different techniques of counselling in education.

If someone is experiencing signs related to slight to moderate depression, the person may benefit from counselling sessions with a trusted and qualified counsellor. Counselling is a kind of talking therapy that includes a proficient counsellor listening to different issues and helping in finding the ways to deal with emotive issues.

The good news isdepression is exceedingly treatable! However, to be identified with depression, symptoms need to be present for at least two weeks. Generally, it is being treated with medications called antidepressants, counselling, or a mixture of the two. But with accurate medications, it often takes some time to notice thedevelopment in how the person feels.
What to expect from counselling?
In a counselling session, you will be encouraged to talk about your state of mind and emotions with a qualified counsellor. The counsellor will listen and support you without judging or criticising you. He/she can aid you to gain a better understanding of your emotional state and thought processes. The counsellor will also help you find your solutions to complications.

The basic thing is counselling is directed by you. This means that it's up to you when it finishes or whether your appointments change in regularity. Usually, a trained counsellor will never push you to discuss something that makes you feel painful and with time, you'll feel more relaxed over time. Try to understand one thing, if your counsellor is asking questions, it's not to test you or frighten you, it's generally because the counsellor wants a deeper understanding of what is going on so that he or she can guide you better.

Counselling can take placeface to face, in a group, over the phone, online through live chat services or by email. It can take several meetings before you start to understand your progress. Due to some potential aspects such as stress with school, work, or assets, or possibly feeling out-of-the-way after moving away from friends and family and so on, students are vulnerable to depression.
Symptoms of depression include:
■
A sad, empty, or hopeless mood
■
Variations in weight
■
Struggle with sleeping
■
Low energy
■
Feeling insignificant
■
Lack of interest or desire in actions that you used to enjoy
■
Feeling embarrassed
■
Troublein concentration
■
Issues in making decisions
■
Feeling short-tempered
■
Feeling suicidal
■
Anxiety
And so on…
Suicidal thoughts need to be addressed right away. Individuals with depression often feel annoyance, humiliation, and irritation. However, there are several myths surrounding this condition. Depression is not a mark of weakness, it is not forever as most kinds of depression are very curable.
School counsellors are an essential resource and great partners for teachers. Let's find out the ways they can support a teacher!
Counselling In Depression
Counselling for depression emphasises more on current thoughts, feelings, and behaviours and how these things are upsetting your life. Managing depression with counselling is frequently the first phase with mild to moderate depression. Several professionals usually go this route before trying medication. Nevertheless, if the situation is more severe, medication will often be essential with a blend of counsellingat the same time.

The span and gravity of the indications of depression generally determine the type of counselling the student needs. If the signs of depression are not as severe, working with a counsellor may be easier. The counselling sessions will support you comprehend and work through the problems that are impacting your life in adverse ways. A counsellor will also assess your development and regulate the sessions consequently. CBT and IPT are being used in counselling for depression. Studies have revealed that IPT is effective in the acute treatment of depression, and it may help prevent new depressive disorders. Therefore, when it comes to counselling for depression, the association between patient and counsellor is the most crucial factorfor the success of the session.

Finally, if someone needs a counsellor, then it is better to spend some time researching the experts in his/her area. Nowadays, many teachers with the help of online counselling courses for teachers offer a free intro session to see if it is a decent fit. We would recommend, for more mild kinds of depression online therapy is a good option. The popularity of online therapy has augmented in the last few years and has developed significantly in the current pandemic.